Unicorns are not as rare as you might think....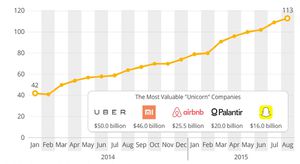 The number of unicorns (venture-backed private tech companies valued at $1 billion or more) has almost tripled since the beginning of 2014, and now equal to 113.
Some investors, and most notably Mark Cuban, argue that this trend indicates another tech bubble akin to the one we saw in 1999 and 2000, but the key difference is that the amount of money flowing into tech companies is less than half of what it was in 1999.
Share this post